Damals begann ich nach vielen Jahren wieder zu fotografieren. Die Fotos dieses Blogs sind Teil einer Segeltour entlang der Südküste Kubas.
Zuerst ein paar Tage Havanna und dann von Insel zu Insel.
...
The milestone year that I took up photography again after along break. The photographs pertaining to this blog are part of a sailing tour along the southern coast of Cuba. It began with a few days in Havana, followed by island-hopping.
Esperanza pulled absentmindedly at the hem of her cropped top while watching the sun set gently over the Havana horizon, setting both sky and sea ablaze with color.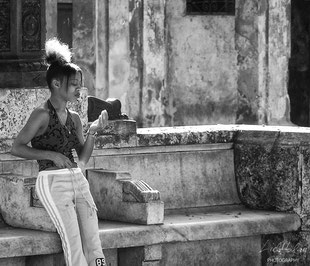 To her, the water seemed to be a moving velvet blanket made up of endless variations of blues and aquamarines, accentuated with a golden corridor of light. The sky on the other hand, was a painter's palette of pinks, oranges and yellows that seemed to chase each other around the huge cloud formations. This was her favorite time of the day, those magical 45 minutes when there were no customers to hoot at, no rushing to freshen up or errands to run. It was too early for the evening crowd had not come out to play yet, and the afternoon flow was just over. Business was slow during summer holidays. Schools were out and that meant family time for most people. Her regular customers wanted to maintain the appearances of proper gentlemen who would never stray from their wives to pay for sex. 
Some days were better than others though, and on the more challenging ones, Esperanza (or Hope, the English translation of her name that some of her foreign customers preferred to call her) had trouble living up to her name and could not fathom ever escaping this life of poverty. She had been dragged into prostitution eight years ago by her mother, aunt, and cousins. Just about all the women in her family seemed to be in the same trade, as it was the easiest way to make money without having learn a trade or even worse, go to school. The streets were her classroom and the money bills at the end of each hour were the only certificate of completion she ever needed. She could read and write better than any of her relatives thanks to two of her long-standing customers, one being a school teacher and the other a writer. They had introduced her to books as a way of fleeing from reality from time to time, an escape she welcomed wholeheartedly.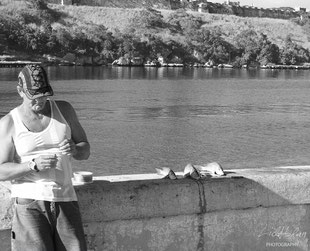 A few meters away from where Esperanza had taken up her post stood a man with his morning catch. She feared him above all others, trembling at the mere sight of him, and her body stiffened each time he stood in front of her. She only knew him as El Pescador (the fisherman) and if the stories were true, cruelty was his primary catch. The men enjoyed his company and competed to be invited to his table every evening, but the women he pimped could barely bring themselves to look him in the eyes. He exuded power, fear and evil with every movement, and Havana knew better than to antagonise him. 
Drugs, prostitution, guns, and anything else that was considered illegal in Cuba were El Pescador's business. His unscrupulousness was legendary, finding great pleasure in torture and violence. Mistakes were paid for with lives, and he considered women to be commodities, not human beings. As Esperanza watched him from the corner of her eye, she wondered what she was in for tonight. The last time he showed up one of her cousins ended up being fed to the sharks, thrown off one of his fishing boats piece by piece as he stood on the deck with bloodied hands and grinning.
There was a special spot along the Playa Baracoa that Fe considered her favorite. Whenever she had time off from work at one of the airport hotels nearby, Fe sat on the rocks along the beach and said her prayers. Her body ached from all the double shifts she was pulling, but she needed the money to pay for her trip to Florida. She had forsaken all parties and trips with her friends over the last two years to save up for that one passage across the sea. Her brother had left five years ago and wrote glorious letters about the wonderful life in the USA. Knowing her brother, however, she was sure these stories were heavily embellished and he was probably neck deep in debt already, but Abuelita (grandmother) looked forward to them every week. When no letter came she would ask Fe to re-read one of of the old letters and knew most of them by heart now.
It was Abuelita who shortened her name from Felicidad (Joy) to Fe (Faith) when she noticed how religious the young woman had become. Unlike most people of her generation, Fe spent hours with her bible and devoted her spare time to the church, volunteering for any activity announced at the parish instead of dancing. No problem was ever to difficult to conquer for Fe, and once she put her mind to achieve something, prayers and hard work were her only weapons. Her heart and soul were set on leaving Havana and pursuing her dream of becoming an actress in Miami, entertaining the great Latino community there and maybe someday even venture out to California. Dreams were free of cost on those rocks, and they kept her going.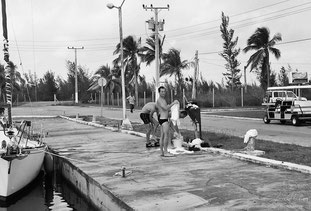 After sailing around Cuba, Jamaica and Puerto Rico for the last three weeks, El Capitan was ready to hit terra firma again. He had a few errands in Havana to take care of, including two very intriguing appointments. The first was with a young woman who had written him six months ago inquiring about passage to the USA on his boat. She had heard from "mutual friends" that he offered such services and she was willing to pay any price he commanded. El Capitan frowned visibly while he wrung his laundry. His days of smuggling people out of Cuba were long gone now that there was so much competition. Besides, the business had become far too risky now and he was not willing to be chased by the US Coast Guard again. The old boat was showing her age and he knew it would soon be time to replace it for a smaller one, which meant he would have to sacrifice the hidden compartment he used for his unregistered passengers. Fe seemed different from most of others though, and he could not deny being intrigued. 
The second appointment, on the other hand, was something he was not looking forward to at all. El Pescador had summoned him back to headquarters for a new assignment and this was never good news, but he valued his life and knew better than to refuse the summons from a barbarian.